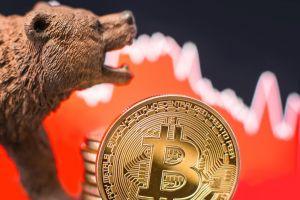 The crypto market took another step lower for the second day in a row, with bitcoin (BTC) falling below USD 11,000 for the first time since the end of July.
At pixel time (15:12 UTC), BTC trades at USD 10,818 and is down by almost 5% in a day and a week. The price also dropped by 2% in a month, but it's still up by 4% in a year.
BTC price chart: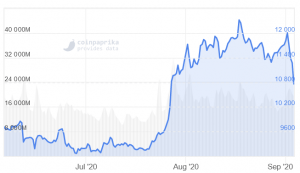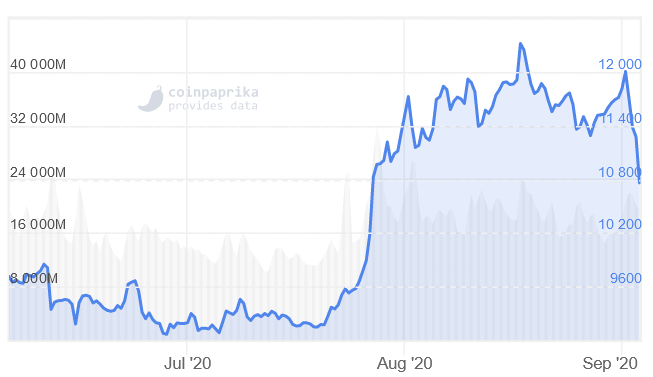 At the same time, other coins from the top 10 are down by 4%-11%. Meanwhile, tron (TRX) is on the verge of reentering the top 10 club after rallying by 70% in a week. TRX is up by almost 10% today, trading at USD 0.0387.
Ethereum (ETH) dropped by almost 7%, to USD 413, trimming its weekly gains to almost 6%.
Meanwhile, among the top 10 DeFi tokens, only yearn.finance (YFI) is up today, jumping by 12% after it launched the yETH vault yesterday. Other major DeFi tokens are down by 4%-12%.
The total market capitalization decreased by almost 4%, to USD 357bn, while BTC dominance, or the percentage of the total market capitalization, is almost unchanged in a day, standing above 56%.
"After another failed attempt of breaking free from the USD 12,000 level, bitcoin is starting to lose some momentum," Edward Moya, senior market analyst at Oanda, told Bloomberg after the correction yesterday. According to him, while a strong dollar tends to dent appetite for the cryptocurrency and there are signs its popularity is fading among retail investors, if the greenback softens over 5% it could be the catalyst to help BTC breach that threshold again, if its fundamentals improve.
"Of course, the big level that everyone is watching is USD 10,000. When we broke above that level in late July, it was with such force that we never really got to test it as support. Well, this may just be our chance," Mati Greenspan, Founder of quantumeconomics.io, said in his newsletter today.
Also, as reported today, Bitcoin miners sold BTC 844 in a day, or 63% more coins than they generated in the same period of time.
___
Reactions:
###crypto order books highlight price levels where large orders sit, and can help identify areas of support and res… https://t.co/9XQOJVMKuD

— CryptoCompare (@CryptoCompare)
In the last 18 months, #BTC $BTC #bitcoin Buy and Hold investors jumped from 25% to 40% while speculators dropped f… https://t.co/xGOEpkp6wd

— Ronnie Moas | Nomad | Stocks | BTC | Charity (@RonnieMoas)
Small #bitcoin test to shake out weak hands that entered May-Aug. If you can't handle this, get out now. If you can… https://t.co/FP3GC8OXrz

— PlanB (@100trillionUSD)
Bitcoin has been above $10,000 for 37 days.

— Dan Held (@danheld)
@RaoulGMI @theDAOKING my entire feed is "this is a healthy correction, buy the dip"

— UGcrypto (@CryptoPlanetoid)
These corrections either don't go as far as we'd like or fo further than we wanted…usually the case!

— Raoul Pal (@RaoulGMI) September 3, 2020
#DeFi

— CryptOrca (@CryptOrca)
$CRYPTO erases 50 Billion dollars off market cap in 30 hours after Binance lists literal Ponzis like $sushi and YF… https://t.co/vyutdDfwd2

— Anondran (@AnondranCrypto)