After yesterday's sell-off in both crypto and stock markets, major cryptoassets remain mostly in the red, although some green shoots have appeared and Bitcoin (BTC) miners sold less BTC. However, US equity futures are mixed as traders wait for the August jobs report today, suggesting that the crypto market might again follow US stocks as correlation gets stronger.
US jobs report Friday is forecast to show payrolls continued to rebound in August from virus lows, according to Bloomberg.
The correction in stocks came after what has been a major bull-run in the US stock market since it bottomed in late March.
BTC and S&P correlation chart: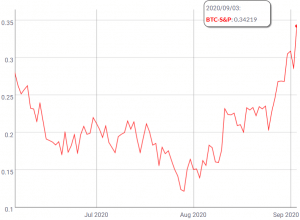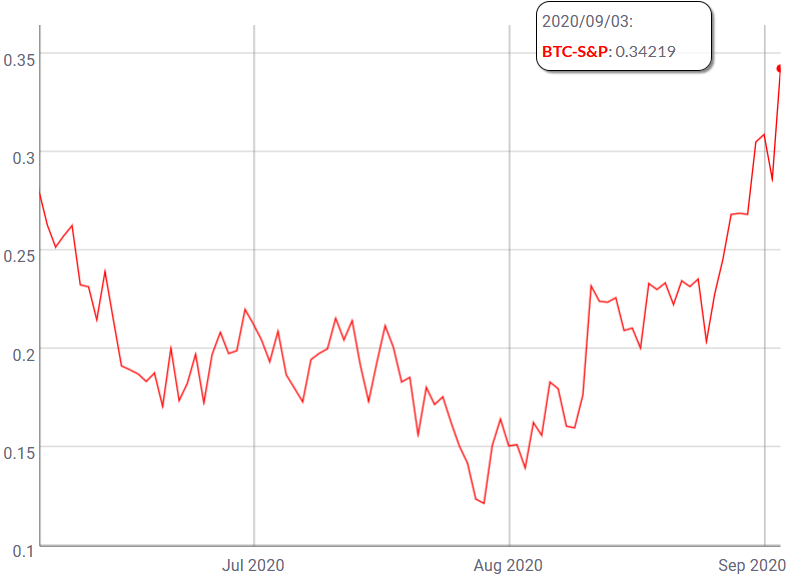 Just a reminder that the stock market dropping caused Crypto to fall with it. This is inherently bullish because it… https://t.co/Qv4vEcsOor

— IncomeSharks (@IncomeSharks)
Also, while yesterday we saw miners moving unusually large amounts of bitcoin to exchanges, signs today suggest that the selling has slowed down, with miners once again accumulating BTC on a 1-day basis. According to data from ByteTree, bitcoin miners on the whole increased their inventory by 156 BTC over the past 24 hours, after cutting their daily selling of coins by around half since yesterday.

James Bennet, CEO at ByteTree, previously told Cryptonews.com that miners typically build their inventory during market weakness and sell into strength. As the price recovers, miners might start offloading their inventory again. "Miners want to get the best price for their bitcoins but still need to cover operational expenses. They are generally not long-bitcoin, but are market savvy," according to Bennet.
At pixel time (10:53 UTC), BTC trades at USD 10,534, rebounding from the USD 10,200 level. the price is still down by 7% in a day and 8% in a week. Ethereum (ETH) is also moving higher, trading at USD 398, after it reached USD 379 earlier today. ETH is down by 8% in day, trimming its weekly gains to less than 1.5%.
According to blockchain analytics firm IntoTheBlock, in order for BTC to reach USD 11,000 again, it has to go through 1.2 million addresses that previously bought 864,000 BTC.
"If bitcoin breaks the USD 11,000 barrier, the most crucial resistance level sits at that USD 11,500. Roughly 1.82 million addresses previously purchased approximately 1 million BTC at the range between USD 11,354.75 and USD 11,663.72," they said, adding that BTC "sits on a massive supply barrier around USD 9621,01 that may absorb the downward pressure."
Over 1.2 million addresses had previously purchased a total of 783,000 BTC between USD 19,482 and USD 9,791, their data shows.
Meanwhile, today, among the top 40 cryptoassets by market capitalization, only tron (TRX) (+1.6%), EOS (+5.7%), and Celo (CELO) (+7%) are in the green today. CELO rallied as it was recently listed on a number of exchanges, including Coinbase Pro, Gate.io, and OKEx.
On the whole, however, the market is still in a sea of red after the sharp correction, with the worst-hit part of the market over the past 24 hours being DeFi tokens like REN (down 18%), SUSHI (down 15%), and BAL (down 20%). However, other DeFi tokens such as yearn.finance (YFI) still managed to weather the storm with a smaller drop (-4%).
Meanwhile, sell liquidation figures from Skew showed that the party ended badly for many (over)leveraged bitcoin traders on the crypto derivatives exchange BitMEX, with total hourly liquidations reaching USD 94 million at noon yesterday (UTC).
#Bitcoin $BTC – $500 mil longs liquidated

— Coinalyze (@coinalyzetool)