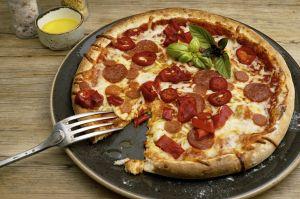 Bitcoin Pizza Day (May 22) may have come and gone in most parts of the world, but in crypto-mad Japan, the festivities are still ongoing – with one of the country's newest exchanges running a month-long bitcoin (BTC) giveaway promotion.
Rakuten – an e-commerce business empire that also runs a takeaway food delivery service and the Rakuten Wallet crypto exchange – has announced that it will give customers up to just over USD 9 worth of bitcoin when they order pizza via the Rakuten Delivery app.
However, in order to get their hands on the tokens, customers will need to have a Rakuten Wallet account.
Per media outlet Bitdays, Rakuten Delivery has partnership deals with around a dozen major pizza chains based in Japan, including international names like Domino's and Pizza Hut, and the offer is open not only to existing Rakuten Wallet customers, but also to anyone opening a wallet on or before the end of June 19.
The company says that USD 9.30 worth of BTC will be redeemable on orders worth over USD 46, with USD 4.6 in BTC claimable on orders worth USD 23 and payouts of USD 1.9 worth of BTC for orders over USD 9.3.
Newer, wealthier players in the country's crypto exchange industry, in particular, have been stepping up their promotional drives in recent months. Financial giant SBI has made a number of XRP payouts to shareholders of its Morningstar subsidiary – providing they open or have existing accounts at its SBI VC Trade exchange.
And securities heavyweight the Monex Group has also made a year-end bitcoin giveaway to its 50,000 shareholders, telling Cryptonews.com that BTC is its shareholders' most popular token. To redeem the offer, shareholders were required to have an account at the Monex-owned Coincheck exchange.