The text below is an advertorial article that was not written by Cryptonews.com journalists.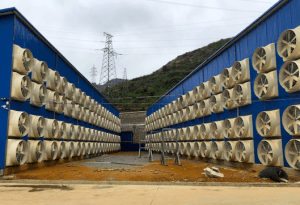 It's a fact: governments are playing the perverse game of "Who will print the most money?" by trying to delay a global financial crisis that seems to be more and more inevitable. Because of this game, many citizens are worried about their purchasing power, which is melting like snow in the sun. Saving up… ok, but how? Certainly not in a savings account (like in France) whose 0.5% annual rate is more laughable than desirable. So, what should you choose? Stocks? Life insurance? Perhaps the solution lies in changing the whole matrix. What about saving… through cryptocurrencies?
If you follow the news, you know that more and more large institutional players and NASDAQ companies are interested in cryptocurrencies such as Bitcoin to protect themselves from the threat of inflation. The most recent and resounding news is the announcement by online payment giant PayPal that it will soon allow its customers to buy and sell Bitcoin and other cryptocurrencies. We're talking about 346 million active accounts that will soon be potentially one click away from cryptos, it's huge!
Thanks to this kind of news, Bitcoin and altcoins are coming out of the shadows and are finally becoming respectable, even desirable financial instruments. Cryptos are here to stay but to create cryptocurrencies, you have to mine them! Once you have that in mind, investing in crypto mining makes total sense.
So, what about investing in crypto mining? There is no need to go online trying to make money by day trading and praying for your portfolio to turn green. Crypto mining can be very profitable, especially when done as a group of several people and not by individuals alone.
Unlike its competitors, Summit Mining does not sell or rent mining machines. This young French company is attracting a lot of attention in the industry by purchasing the best performing machines using funds from its customers and investors. Then, it adds these new machines to the mining fleet it manages, and that's where things get very interesting: once a month, all the profits generated are shared between the customers in proportion to their investment. Summit Mining pays itself a percentage of its client's earnings, which also serves to provide an incentive to generate the highest profits possible. This "community mining" approach has two major advantages for the investor: it significantly reduces the risks, and it improves the return on investment (ROI).
This notion of community is not just a marketing point. Indeed, all Summit Mining clients are accompanied throughout the entire investment process and remain in touch thanks to a Discord channel, through which they can chat, learn, and discuss with the Summit Mining team.
"Beyond profit sharing, I believe deeply in sharing knowledge about cryptocurrencies, it has always been my way of thinking," says Mathieu Vincent, founder of Summit Mining. "The ultimate goal for each individual is to regain total control over their money and be the final decision-maker on what they do with it. A cryptocurrency like Bitcoin teaches us this notion of monetary sovereignty".
You can join the public Discord group now to learn more about Summit Mining.
Every week, new customers join the Summit Mining's community (currently 500 investors) and its mining fleet, which now includes more than 6,400 machines that mine 24/7 five top cryptocurrencies: Bitcoin (BTC), Dash (DASH), Ethereum (ETH), Litecoin (LTC) and Zcash (ZEC).
The main advantage of community mining lays in the fact that everything is shared. The costs are shared, the machines are shared, and the profits are shared, too. In addition, the company mutualizes available funds and orders new machines only once a month. This strategy enables Summit Mining to get the best prices and to buy more machines, which is designed to satisfy its investors who want to see their potential profits increase.
However, ROI is never guaranteed (which is a good thing, because those who do these kinds of promises are simply liars or crooks). Despite that, the past numbers give a hint about what might happen in the future: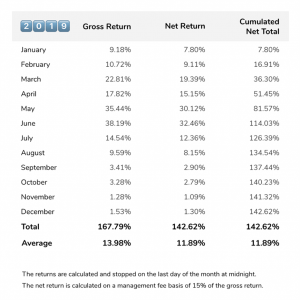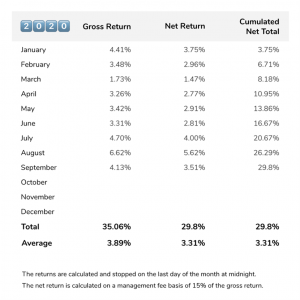 At the beginning of each month, the Summit Mining customers receive a mining report, and are paid with the five cryptos they have mined. Everyone can either reinvest their earnings, convert them into euros, dollars, and other currencies, or simply keep them in a dedicated crypto wallet and wait until the prices increase.
Please note that if you invest in Summit Mining, you will receive Mining Park Tokens (MPT). One MPT equals one euro that you have invested. Thus, the sum of all TPMs issued corresponds to the sum of all investments. This way, you have a certain stake in the company's mining park, proportional to the amount you have invested. This amount will be used to calculate the amount you will receive on a monthly basis.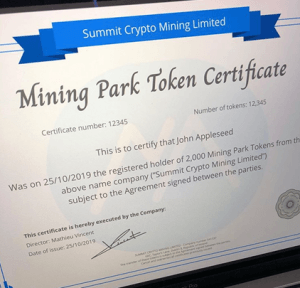 Once you have made the minimum investment of 2,000 euros (including all fees), you will officially become part of the Summit Mining community and join the very closed club of the 1% of the population that owns cryptocurrencies – a unique investment and a bet on better tomorrow!
Crypto mining: invest in the future
As we mentioned in the beginning of this article, the world of traditional finance is a giant with feet of clay and the global health crisis we have been experiencing since March 2020 is not helping.
Yesterday's savings and investment options are no longer as attractive as they were a few years ago, and the smartest people have understood that this is the right time for changing their old views. When you see companies like the publicly traded Microstrategy diversifying its cash reserves by converting 425 million dollars into Bitcoin, you know it's a sign that you should start paying attention!
The value of the euro and other fiat currencies is eroding over time, leaving small savers in a state of uncertainty. Investing in a technology such as crypto mining in 2020 is no longer the crazy bet it was five years ago. Today, it is a rational way to diversify your savings while betting on the future. Like any other investment, it also involves risks. However, these risks are largely absorbed by the Summit Mining's community-based structure, whose legitimacy in the current economic context is becoming increasingly obvious.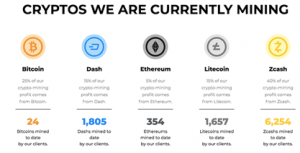 You only have a few days left to join the Summit Mining investor club before the next order. Click here to contact a member of our team today: