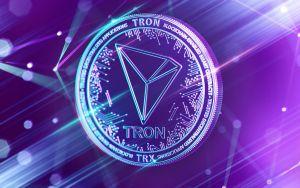 As Justin Sun's plan of driving more decentralized finance (DeFi) projects to the Tron blockchain moves one step forward, Tron's native token TRX stands out as one of today's top performers in the crypto market.
As of 9:00 UTC today, TRX was up by nearly 14.5% over the past 24 hours, trading at USD 0.0298. The gains made the coin the second-best performer among the top 20 cryptoassets by market capitalization, closely following the recently hot Polkadot (DOT) token, which saw a gain of nearly 16% over the same time period.
In the past week, TRX apprecaited 21.9%, again being outbested only by Polkadot's 42.7%.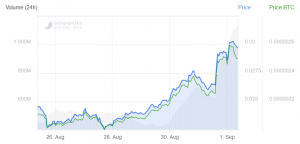 The strong gains today came as Tron CEO Justin Sun and his team are in the midst of creating what they call "the bitcoin" of Tron – a new DeFi meme token called SUN. And according to the founder himself, the token will enter genesis mining tomorrow, September 2.
(1/5) I am glad to announce that we have decided to launch $SUN 🌞 Genesis #Mining. ⛏️
#SUN🌞, manifesting total #community self-governance, is a living demonstration in the coalescence of encryption with artistic expression.https://t.co/F7HNajPfQc

— Justin Sun (@justinsuntron) August 31, 2020
"We hope to use SUN to promote the development and possibilities of TRON's DeFi self-governance community," Justin Sun wrote on Twitter yesterday, while adding "I hope the entire crypto community may judge its success, not by its price, but instead by the indomitable spirit that underpins the SUN: its community!"
Further, the sometimes controversial CEO added that the new project is "a genuine effort to allow a community to govern itself," while also calling it a "grand social experiment, where everyone participating in Genesis mining will become part of the community and help guide its future."
And to take it one step further, Sun has also decided that September 16 will be designated as "SUNday" in celebration of the token named after himself.
Part of a broader effort by the Tron founder to tap into the lucrative DeFi space, the new SUN token will be a governance token that will power a smart contract known as SUN Finance. The token will reportedly be distributed as rewards to users who stake various other Tron-based tokens on the platform, essentially mimicking how many DeFi platforms operate on Ethereum (ETH) today.
Despite the attempts at gaining a share of the DeFi market, however, industry observers have previously told Cryptonews.com that dethroning Ethereum will be difficult due to the network's first-mover advantage and massive network effects, while also noting that a transition to ETH 2.0 may enhance its dominance even further.
____
Learn more:
Tron's 'JUST DeFi' Exchange and Yield Farming Launching in August
Ethereum Saved by DeFi in July, Tron Scores in All Metrics – DappRadar