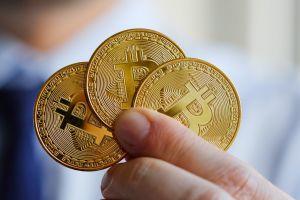 After a month of extraordinary returns of more than 740%, DeFi darling yearn.finance (YFI) keeps climbing today, while traders remain divided on whether the top has been reached for the price or if it still has room to grow.
As of press time on Monday (10:28 UTC), YFI was up by 3.5% over the past 24 hours and up more than 154% over the past 7 days, currently trading at USD 33,765. The rally continues after the YFI price exceeded that of bitcoin (BTC) earlier in the month, causing some discussion in the community over whether such a high price per token is ultimately a good thing or not.
However, while one YFI is now worth almost BTC 3, it's ranked 26th by market capitalization, which stands at USD 1bn, or 0.5% of BTC's capitalization. Also, BTC 24-hour trading volume is 30 times larger, standing at USD 15.6bn today.
While opinions are divided on what the future holds for YFI, looking at the asset from a technical analysis perspective it seems that YFI's exponential uptrend remains intact, with no resistance levels to be found to the upside.
However, exponential rallies always come to an end at some point, and with the Relative Strength Index (RSI) currently being in extremely "overbought" territory, a short-term correction could be in the cards for YFI.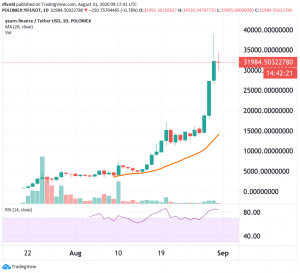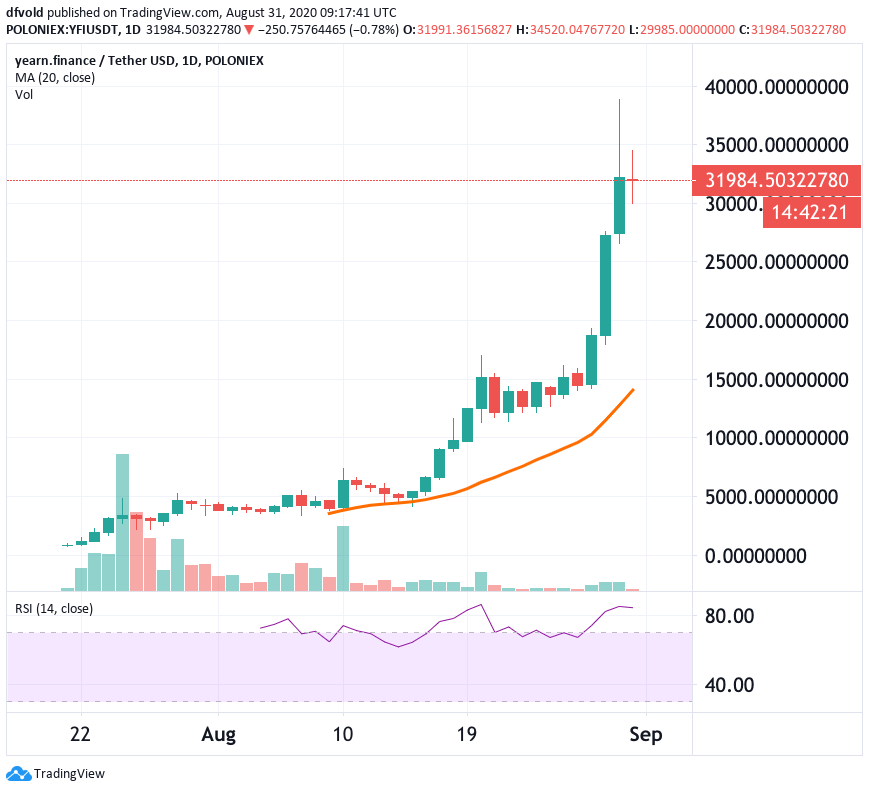 Meanwhile, crypto-focused hedge fund and holder of YFI Spartan Capital still claims that they "are not selling it".
Also, today, major crypto exchange Binance announced that it is listing YFI/USDT perpetual futures contracts with up to 50x leverage, prompting speculations whether "YFI dump" is coming.
Separately, Arthur Hayes, CEO of crypto derivatives exchange BitMEX, wrote in a blog post last week that "I, like many other punters, am enjoying yield farming meme tokens." However, he also added that "this degenerate behaviour" may end up costing him "most of all of the money" invested, but said that this is okay since it is "the only way to learn" about the products and services that will be in demand in "the next wave."
"My core investments of gold and silver miners, physical gold, and my interest in 100x dwarf any investment in YAM, YFI, DOT, or any other piece of shit token I decide to buy," the outspoken CEO added.
Other reactions:
@crypto_blkbeard well, you are one of the few who will not get burned in this madness, so not being positioned migh… https://t.co/wquLq8VDlJ

— CryptoYoda (@CryptoYoda1338)
$40K $YFI would be good for the bigger cause imo.

— Mr. Backwards ® (@Coin_Shark)